The Mighty Power of Personal Brands and Twitter – and what the ASA has to say about it…
… In the case of Wayne Rooney, some may say that brand personality may be debatable compared to David Beckham or Stevie Gerrard, but he has undeniably an amazing followership on twitter and the brains behind him to make money from his brand.
Turns out, a lot of other celebrities have done the same and that kind of endorsement has been debated by the ASA and in the case of a tweet relating to the NIKE campaign, he has been asked to change/remove the sponsored tweet.
In an article the BBC writes:
"This is relatively new territory for us as a regulator," ASA spokesman Matt Wilson told the BBC.
"People are experimenting and using Twitter to reach consumers, but the same advertising rules apply. It's an ongoing process and this illustrates the care firms must take."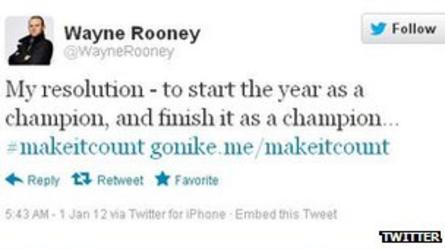 It is an interesting development and perhaps a sign of things to come as commerce exploits people brands as key influencers on social media. It also makes me wonder if such strategies will be a long-term success for both sides; the celebrity and the consumer brand. Either may be taken less serious or be seen in the wrong light when the true motivation behind brand endorsements is made obvious.
It does seem a logical way to use influencers to evoke desirability and connect a product or service with a certain status – but in my mind this works much better when it is not as obviously doctored or orchestrated as the Tag Heuer watches ad campaigns.


On the whole though I agree with Ed Aranda, cited in an article about the twitter endorsement issue, that people should be grown up and wise enough by now to understand those new emerging adverts and to take them for what they are – an invitation to pay to join the tribe of the endorser but by no means any more forcefully than all the other marketing surrounding us daily.
advertising, brand advertising, brand loyalty, personal branding