YMCA US – New Brand Lacks Decisiveness and Vision
… well, in my mind, anyway. Having just worked myself on a new brand vision and brand design for the Forest YMCA in East London, I had heard about the ongoing re-branding exercise of the US equivalent, and was eagerly awaiting their approach.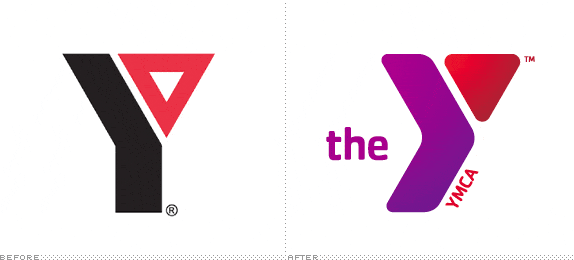 Now that it's here, I am somewhat underwhelmed. Yes, it is more colourful, thus easier to work with in a brand management sense. Yes, the shape is more pleasing and gives a sense of direction rather than a warning sign.
The approach of treating the 'Y' as the main icon flew out of our concepts pretty much stage one lacking the spirit, drive and innovation the Forest YMCA in East London wanted to be associated with. That may not be relevant for the US branch, but typographically the new visual looks like  a compromise that is not quite working on the web when the logo is a small size. Why is the organisation not confident enough to do what it says in the press release and be 'The Y' without including the original initials YMCA on the side of the logo? They look out of proportion,  like an afterthought, and they shift the balance of the logo to be bottom heavy.
It seems an odd decision that may well be due to 'death by committee' – and may have caused the designers involved to tear their hair out in despair, or it may be a very different vision and understanding of the brand this side of the Atlantic.
Whatever the reasons, I personally think it is a shame that an organisation of such statue, history and positive drive has shied away from a truly innovative brand strategy and has decided to use a design that is pushing the identity merely into the 90s (of the last century that is…)