It's one of those things shoppers have to expect: You walk into a store and a shop assistant will ask you within seconds if they can help you. (When I first arrived in the UK, I was stumped but then quickly learned the phrase 'no thanks, I am just browsing'.)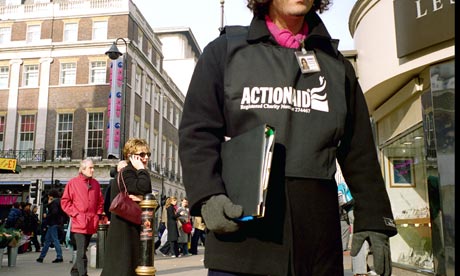 Another regular occurrence of high street shopping is that a team of fundraisers will hustle you to appeal to your giving nature. This one is a particularly tough one because obviously the charities need to raise funds. However, there are different ways to go about it and I have come across groups of fund raisers who gathered at lunch time, swapped their branded vests and changed into another charity – it does border on insincerity and changes the image of philanthropy to hard core business.
More crazy though, every week, I get a letter from three household brands and, after more than five years of getting them now, it is definitely affecting the way I see their brand. Lloyds tries to give me a credit card, BT some phone line upgrade and Virgin anything that's on their mind at the time. I subscribed to neither, and neither messages have ever hit me at a decision making point over a rather large 'buying cycle' period, which makes me question their effectiveness.
Yes, the old dogma of brand marketing used to be to 'carpet bomb' the consumer in the hope that a message would stick with a number of people which, despite being very small, would build the customer base that made the business worthwhile. We have moved on – and very select targeted advertising is possible now, but it seems it's still too much effort or too scary for brands to throw away those huge direct mail data bases and find new, innovative means of brand communication.
It's not just about shouting out messages at people, it feels like an invasion of personal space. Those brands, that have looked at other approaches to become embedded in the mind of their target market when it comes to the buying decision, will probably find the long-term benefit of not poking their nose into our every day life and let us come to them when we want something. It's not just the power of the niché, it's the power of the brand itself.
Educational approach – provide customers with practical, educational content, be it on your website, blog, via an app for smartphones, on social media platforms such as twitter or LinkedIn, appearances on seminars, exhibitions, in the press – you are the expert, so make sure other people can benefit from that. Yes, it's a worry that the competition will 'take inspiration' from what you do, but you can't run a business worrying about what they may or may not do; it's much better to be the first one that wholeheartedly embraces the 'sharing' attitude and builds a name (brand) for themselves in their chosen field.
Subtle post sale marketing – Someone bought something from you, whehey! They get a receipt, and that's probably it. Perhaps this is the point where they are open to find out a bit more about your magic product or service. Perhaps the receipt could be accompanied with a short message about related items of potential interest? Amazon's 'others also bought this' system and derivatives are really effective and make sense if you consider the consumer being on a 'shopping spree' and open to suggestions.
Supporting causes, charities, events, fundraisers – it's nothing new, but 'giving back' means free PR, great local exposure and a positive attitude towards your brand. It's a win-win situation and doesn't have to cost much.
Devising a strategy to reach the most relevant target market – this has a few advantages. Speaking from a designer's heart, one obvious plus point is that the value of a very specifically targeted campaign item is much higher because of the better conversion rate. Thus, it is viable to invest proper time (and money) and the creation of a great piece of communication that will convince rather than grind down readers. Another one is the likelihood of recommendations and referrals. If I talk to those interested in my brand, chances are, they will appreciate the communication and remember to mention it with other like-minded people. Nobody really shouts about the local pizza menu thrown through the letterbox every week, but if you are a golfer and found a brand that provided you not only with great relevant products but also added value to your shopping experience by giving tips, insider tricks, offers, etc, you may very well tell your golfing friends about it.
To summarise, I believe personal space also applies to the way brands communicate with their clients and customers. Respect is key – as is relevancy and adding value.
I might just have to drag one of them charity workers to one side for a chat one day…
Brand Strategy, Branding, buying cycle, marketing effectiveness